Corsets and bustiers have been inching their way into Spring/Summer collections and the public fashion over the past couple of years, however I don't think they've had much visibility (since people are just starting to leave their houses and actually see other people's outfits).
I've been seeing this type of outfit on Pinterest, so it's been bouncing around in my head. Sewing a well-fitting corset or bustier is not an easy pursuit, so I wanted to start trying patterns and techniques to see what works best for my body.
General Information
Materials & Supplies
White and Evening Haze Digitally Printed Flowers on a Premium Mikado/Twill ($31.99/yd) - Mood Fabrics
Although this is gorgeous and expensive fabric (that I've also seen used on Project Runway!), it's not very wearable. It's not very breathable, it doesn't feel good against my skin, nor is it easy to work with since it frays pretty bad and is hard to press or fold. So, I was looking for a cool use for it that didn't feel like I was "wasting" it, and I think this hit the mark.
Review of the Pencil Skirt
I sewed a pencil skirt very recently, but since I was working with a twill fabric, I needed a pattern made for wovens. I've had good experience with Sew Over It in the past (their Rosie Dress was one of the first garments I made), and I liked that their Ultimate Pencil Skirt pattern seemed fairly straightforward and really does look like it has a fantastic fit for everybody that I've seen make it.
I was disappointed to see the pattern PDF didn't have layers, particularly because it made it difficult to find (and transfer) the darts. I highlighted it with a marker to make it easier for me to see, and then used a ruler and protractor to transfer the darts to my fabric (maybe the protractor was overkill 😅).
Sizing
I chose to sew size 12 since my hips are 40 inches and that aligns with the SOI size chart.
Adjustments
I took off 2.5" at the "lengthen or shorten here" line since the skirt looks to hit right below the knee, but I wanted it to end above my knee (this makes your legs look longer!)
I took ~1/8" in from the very top and on the side of my hips (this is an alteration I usually end up making on all garments I make for myself)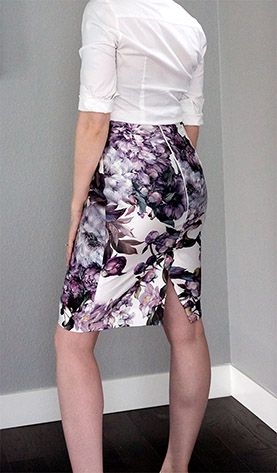 Review of the Bustier
I bought M7937 during a McCall sale. It's a great pattern since it comes with several iterations of a bustier top and pant options.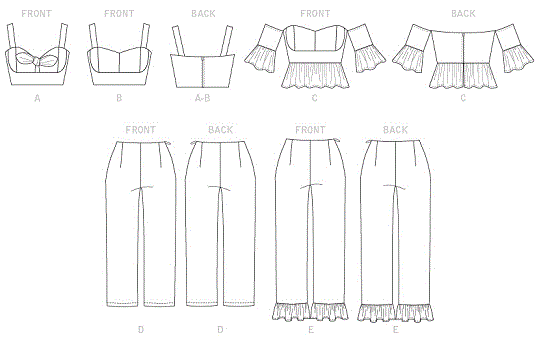 For this outfit, I chose view B.
Sizing
Initially I chose size 12 based on the chest measurement (32"), however after the seam allowance that attaches the lining was taken up, it was apparent it'd be too small. I sized up to size 14 for the bustier I used, however please see the Possible Pattern Error section below.
Adjustments
Did not add boning. I tried it on a toile, but my lack of experience with sewing with it was apparent, so I chose to leave it out.
Instructions for finishing the parts of the garment near the zipper (the back seams) were not very clear, so I felt like I had to do some improvising to finish the zipper and seams.
Adjustment to accommodate the extra fabric overhang (see next section)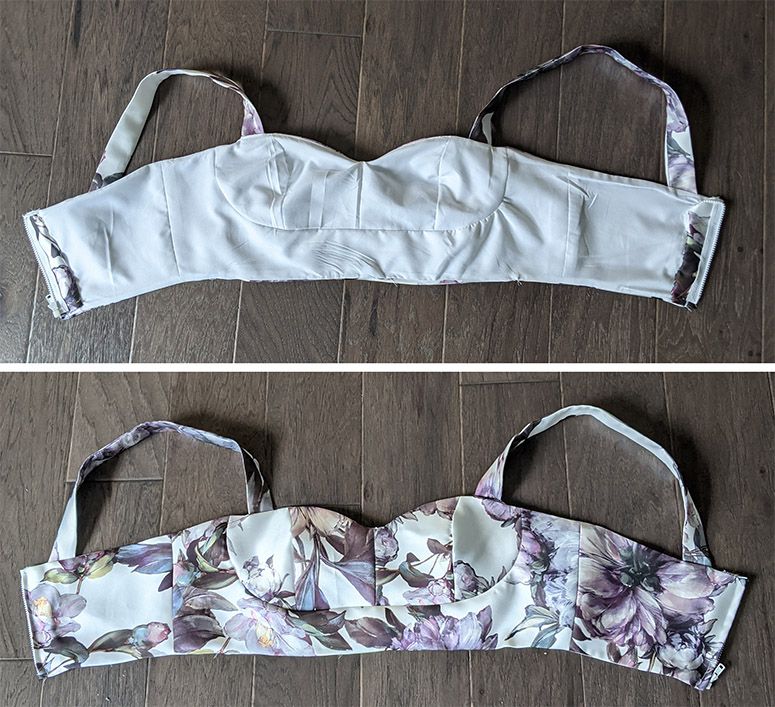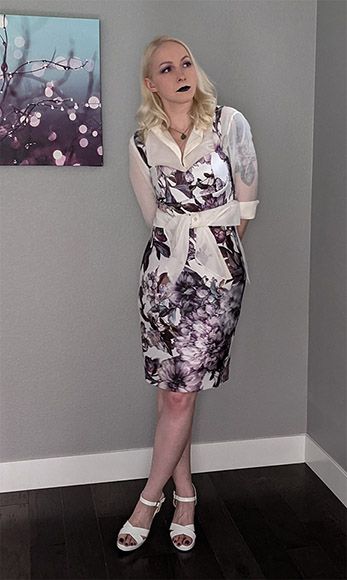 Possible Pattern Error?
After I sized up to size 14, I traced the pattern off the tissue paper and transferred it to fabric. Once I started to assemble it, I ran into an issue where the front bra had a consistent extra bit of of fabric overhanging by almost 2".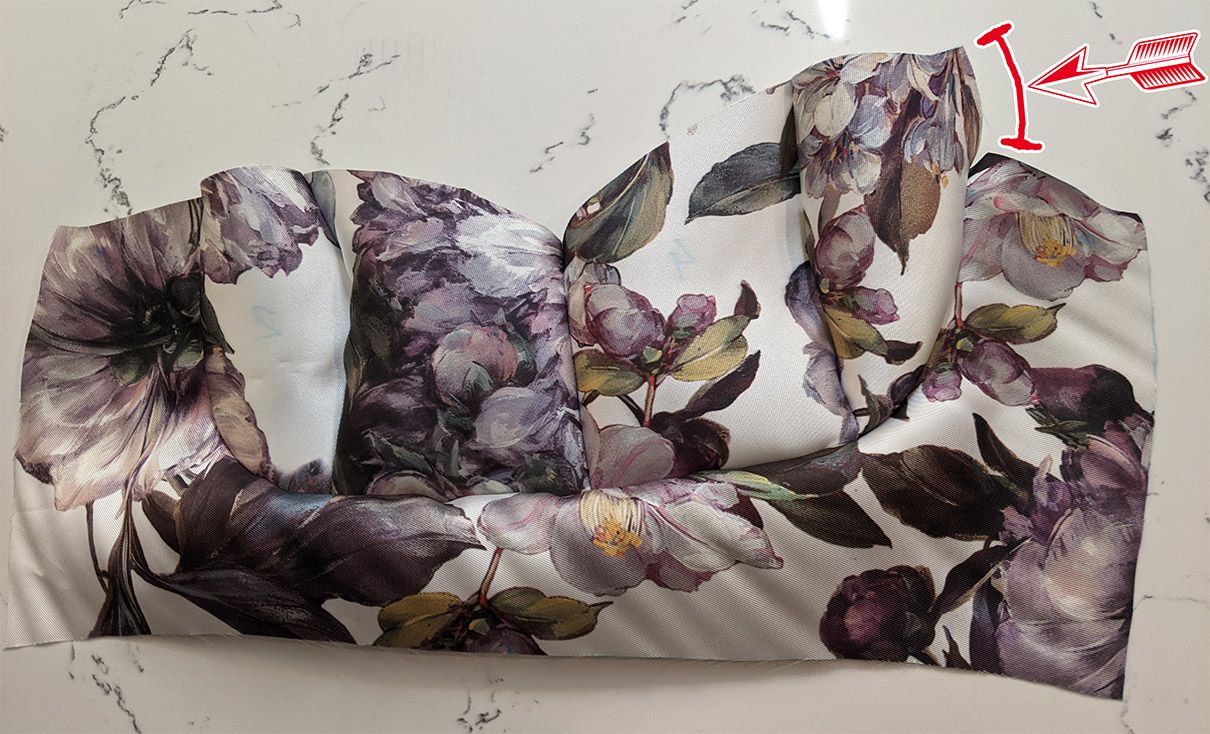 Thinking I made an error tracing the pattern, I re-traced all 3 pieces it on a new piece of paper. I tried both muslin and my actual fabric. It kept happening. Wondering if I made a sewing error, I went back to sewing a size 12 and the pieces lined up perfectly.
So, the only explanation I have is that size 14 of M7937 has some sort of drafting or printing error. The fix wasn't too difficult: I added an extra 1.5" to the middle of the front piece when tracing it onto fabric, but I think I'll still be on the lookout for other bustier patterns.
Lessons Learned
Although I'm proud of my first attempt at a separating zipper on the bustier, I completely forgot to check that the zipper matched up on the skirt before finishing it, so I ended up with this. Check your zippers!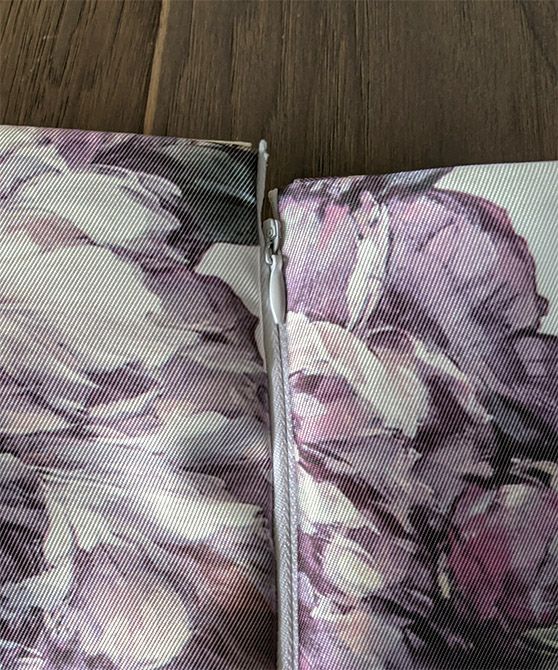 Summary
As I mentioned, I will be on the lookout for bustier patterns (if you got a good go-to, drop it in the comments, please!)
I definitely look forward to using the Ultimate Pencil Skirt pattern again; I've seen many sewists use a slightly stretchy woven, which would work better than this very heavyweight twill.
I also need to sew a white button-up shirt that will work well for layering, somehow none of the three white button-ups that I have in my closet were exactly what I wanted for wearing under the bustier.
Overall this was a fun experiment in making a coordinated outfit out of a single fabric, I'm looking forward to making other versions of this.