This versatile and comfortable skirt is perfect as casual-wear or the office. I was able to whip this up in a weekend, which makes it extra-appealing if you're on a quest for flexible separates. Although the awesome geometric fabric pattern is forgiving of a lot of mistakes, it's likely better-suited for thicker scuba fabric.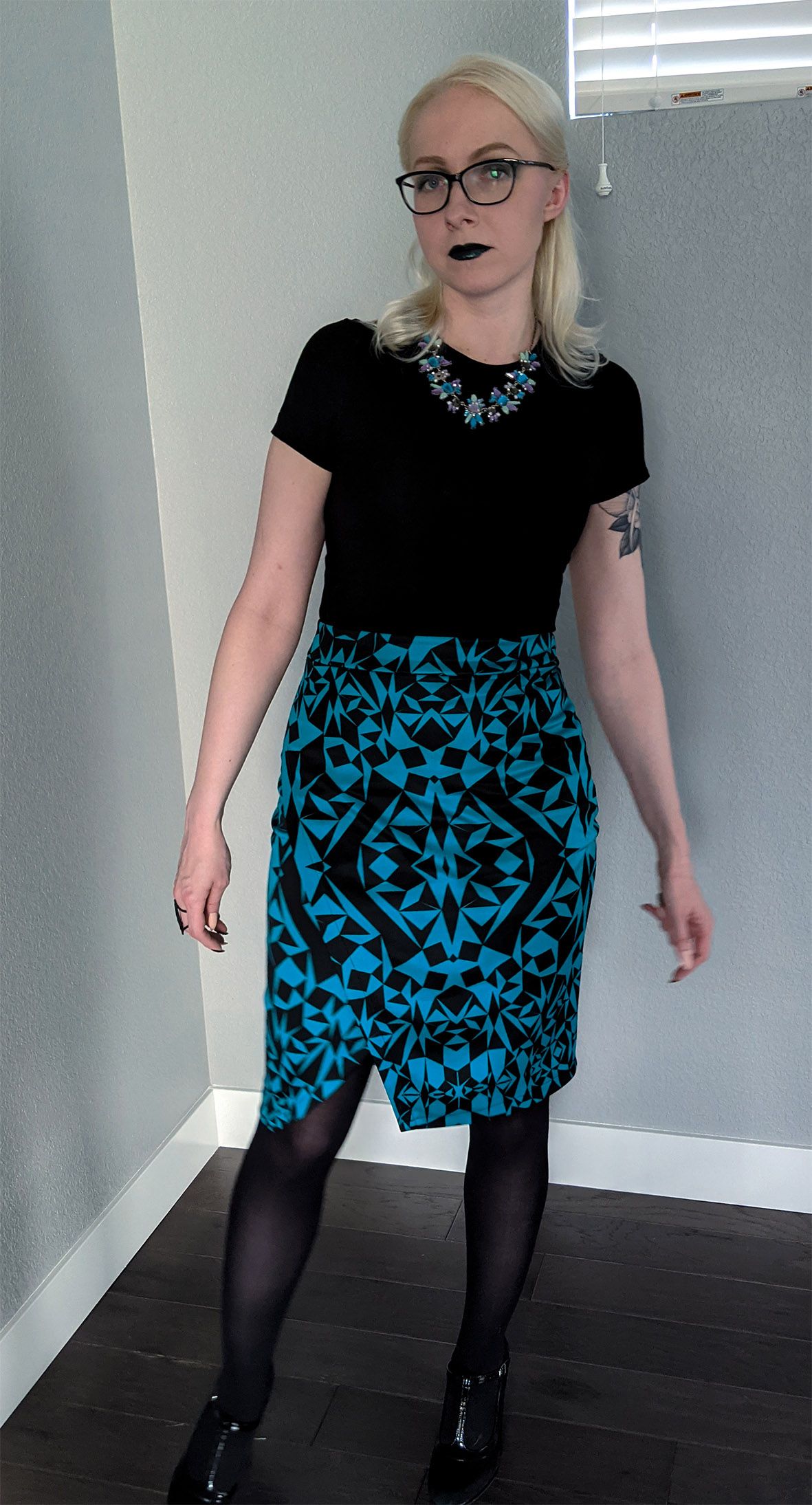 Materials & Supplies
I've had this teal scuba knit for over a year; it's one of the first fabrics I ever bought with the intention of garment sewing! It felt great to find a cute use for it, especially as a separate that I can pair with many different types of tops.
Teal Black Polyester/Lycra Geometric Print Scuba Knit (1 ¾ yards; $7.79/yd; $13.63 total) - Fabric Mart (unfortunately, this fabric is no longer available on this website since I bought it over a year ago 🙃).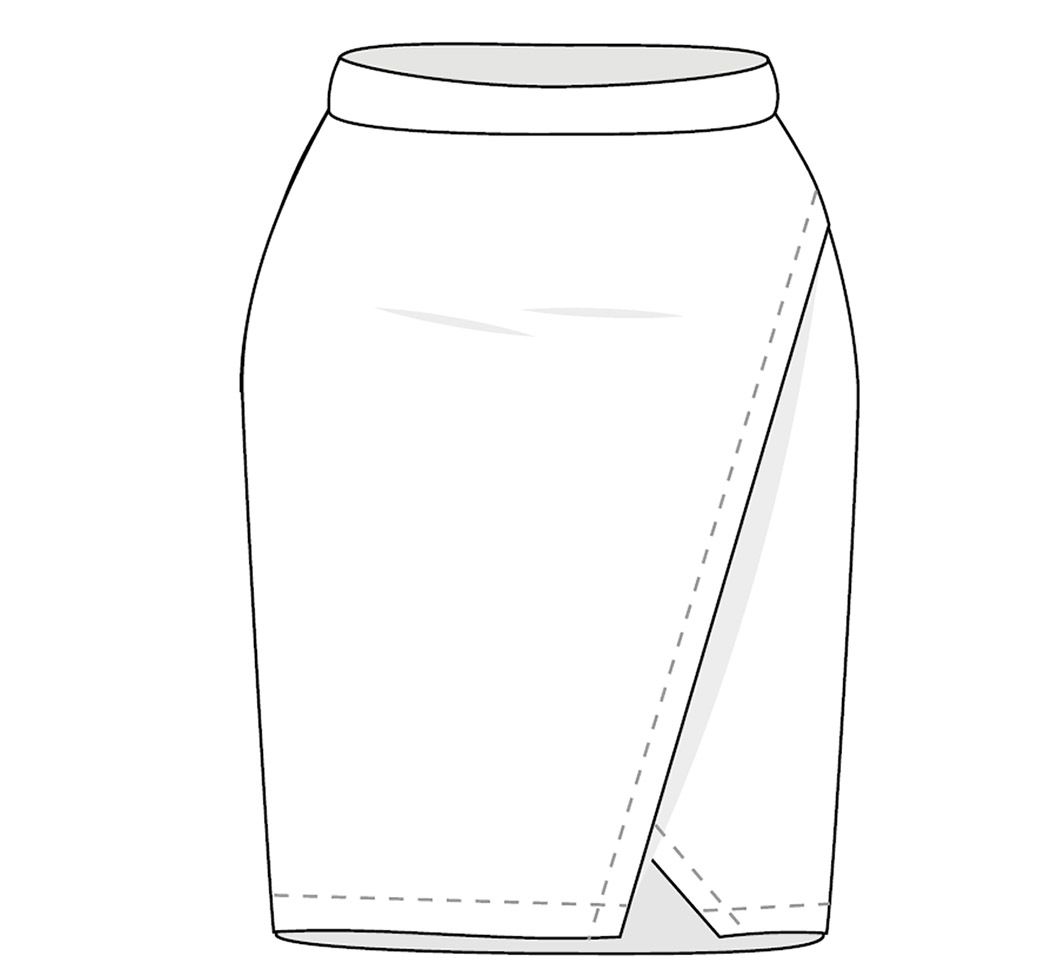 Sizing
Based on my bust/waist/hip size of 36/29/40" and the size chart that Sinclair Patterns provides, I chose size 8 (mostly based on the hip measurement, since this is a skirt). I didn't even make a toile, so chef's kiss to Sinclair Pattern sizing!
I took in about 1/4" from both sides near the top half since there was a little bit of extra gaping.
Pattern Review
The pattern itself had everything I love from an independent pattern-maker; Adobe Reader layers, a grid of PDF page layout, only 32 pages to print (compared to 90+ pages on the last pattern I printed at home), well-illustrated instructions, great sizing!
There weren't too many markings to transfer, and overall it was easy to copy onto the fabric and cut out. I had some issues with matching up the notches when sewing (not so much along the top/waist, but more along the sides). But it turned out OK all things considered!
Lessons Learned
I've spent some amount of time standing and staring into a mirror trying to nitpick apart everything wrong with this spontaneous garment.
The thing I picked out was that I think the thickness of this fabric was not quite as thick as scuba fabric should be.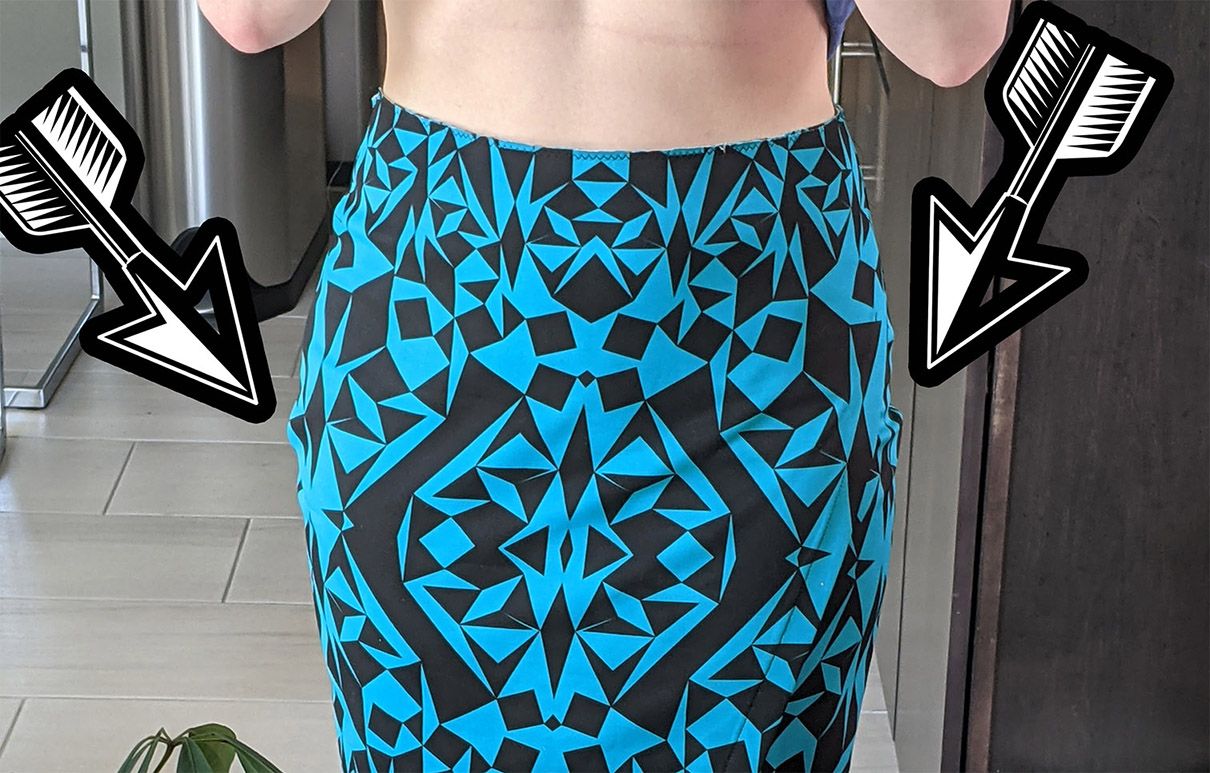 I think that if I used a thicker scuba fabric (or stabilized it with interfacing), it would behave better at those parts. I plan to do that next time I try this pattern.
Verdict
Overall it's a great skirt pattern, and I look forward to trying it again in another, heftier fabric — perhaps for autumn/winter. Since I'm not 100% that thicker fabric will fix the pulling issue I described, I might try some other pencil skirt patterns (perhaps even from Sinclair Patterns, since they have pencil skirts a-plenty!) before I circle around to this one.