Although capes have a certain air of appeal to any goth fashion enthusiast, I wasn't prepared for exactly how much I would love it.
First there's the pragmatic aspect of it: you can throw on a cape and make a dramatic exit without trying to find a sleeve opening (which nobody looks cool doing, that's why — per etiquette — gentlemen are supposed to help you put on your coat).
Then, there's the aesthetic aspect of a smooth, flowy piece of fabric and the lovely movement that a jacket simply cannot match.
Okay, let me get down to the technical  details before I continue to fangirl about my love of capes.
Materials & Supplies
Houndstooth Wool Blend - QL-014090 #9 Gray (3 yards;  $16.66/yd; $49.98 total) - Swatchon
Although this is decent price for a wool blend, the feel of this is a bit rougher and less cozy than I'd like. But, it has the look I want so I'll take it.
Black Cotton Double Knit for lining (2.5 yards; $13.99/yd; $34.98 total) - Mood Fabrics
Medium weight interfacing
Vintage button - Etsy
Pattern Choice
For my first cape sew, I wanted something easy to follow without a lot of frills or new techniques, and V8959 gave exactly that.  It offers three different lengths; I went with the B length.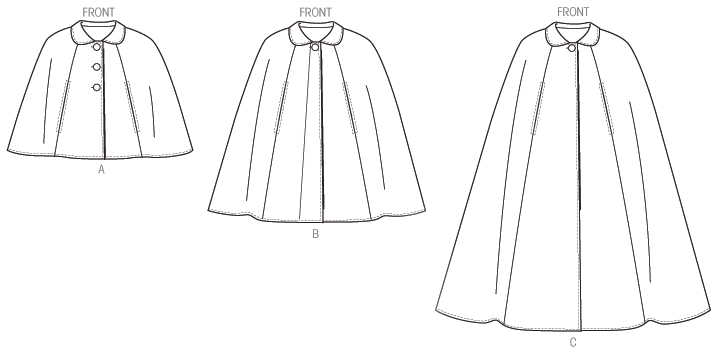 Adjustments
I chose the medium-length to give myself a cape-sewing experience without committing too much fabric in case I wasn't into it. I adjusted the overall length by a few inches to get it to where I wanted it to sit on my body.
The pattern has a rounded collar that I converted to a pointed collar just due to preference.
The shoulder were too wide so I took them in about 1.5 inches (which was easy to do).
Since there was only one (large) buttonhole, I decided to do something a little fancy and followed The Last Stitch instructions for doing a bound buttonhole.

Future Considerations
Length: I 100% want to make a full-length cape out of some quality (soft) and cozy wool; it is officially on my to-sew list!
Pattern: This was a good and easy beginner pattern, but I do wish there was a bit more "oomph". I would also like to amend the arm openings and have something that's more like a welt pocket, so if I do wear this outside the wind doesn't get in as easy. If you know of an interesting cape pattern, drop it in the comments.
Extras: This goes with the lack of "oomph" I mentioned in the earlier point, but I found myself looking at lace appliques to jazz it up a bit.  I would like to add something like embroidery or beading (I figured this fabric was loud enough on its own). But, if I were to make this in a solid color, even something like a brooch would look great.
Verdict
This was an easy and beginner-friendly pattern to sew, I am keeping it in my library for when I endeavor to sew a full-length cape.
Do yourself a favor and sew a cape, you won't be sorry!