The other corporate goth fashion post generates a substantial amount of traffic for this blog, and I realize I've been slacking on fashion content. I struggle because I'm not any sort of authority on this, BUT I do want to help other people who are trying to balance expressing themselves while maintaining professional attire in the workplace.
So, I want to share my favorite outfits that I have actually worn to work, and give you some ideas for how to put together your own interpretation.
Romantic Dress
I put this outfit together as part of a fashion subreddit challenge where the theme was "romance" (this was around Valentine's Day). I've had this red Reformation dress sitting in my closet for a long time. Originally I bought the dress for summer, but the dress is so low-cut and thin that it's really difficult to wear on its own. On the plus side, the dress moves beautifully when I walk, and the length of the skirt is nice and conservative.
Layering with a camisole (or a slip) and a belted cardigan makes it perfectly work-acceptable, and looks and feels wonderfully feminine.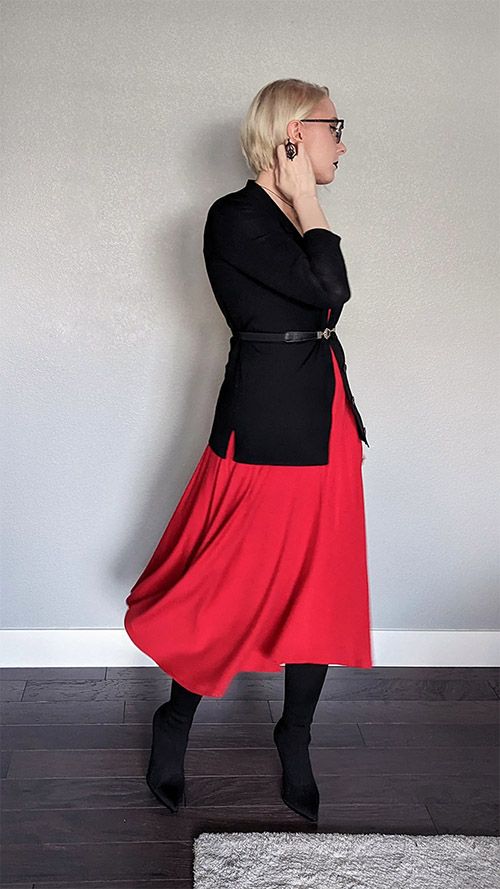 Make It Yours
Go into your closet — don't just rely on your memory of what you have — and look! Find a dress or a skirt with a fun and flowy silhouette. Pair it with boots or black tights, and a black cardigan or black blazer on top. You can also try layering a black t-shirt or a black long-sleeve shirt underneath the dress.
Statement Blazer (and All Black Everything)
I've been in love with this blazer ever since I sewed it, but I assure you I didn't invent the concept of a statement blazer. There are numerous ready-to-wear options available. Wearing all-black-everything-else provides a perfect canvas to let the blazer speak for itself.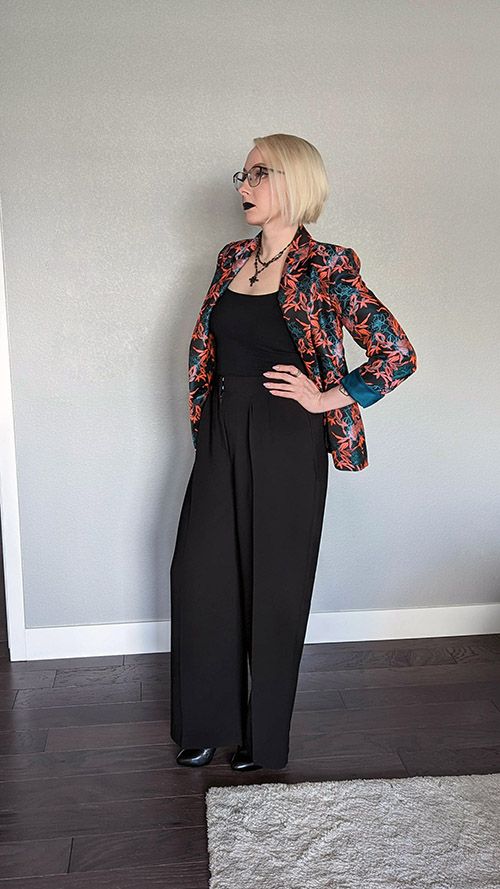 Make It Yours
If you don't already have a loud blazer, try to look for one that isn't trendy to get lots of use out of it — avoid anything super tailored, or overly slouchy — you want something middle of the road. The blazer is also a great opportunity to get something goth-y in; try to find fabric with a subtle skull print, crosses, ravens, spiderwebs — you get the idea. Even a black blazer with a scarlet-red lining would be a fantastic choice (a black blazer with a fun lining is on my to-sew list!)
The "all black everything" can be easily changed to fit the trends of the season (in this case, wide-legged pants), but this will work just as well with a loose black camisole and tight ponte pants, or black bootcut jeans.
Leather Skirt & Button-Up
You want a look that makes people fear you are an adjudicator from a shadow government agency. A button-up blouse and a pencil skirt are pretty standard office attire, so it's easy to lend an edge by making the pencil skirt leather (pleather in my case).
There is something inherent in the goth subculture about subverting societal norms, and I believe experimenting with gender expression is a big part of that. For that reason, I love playing with ties as an accessory.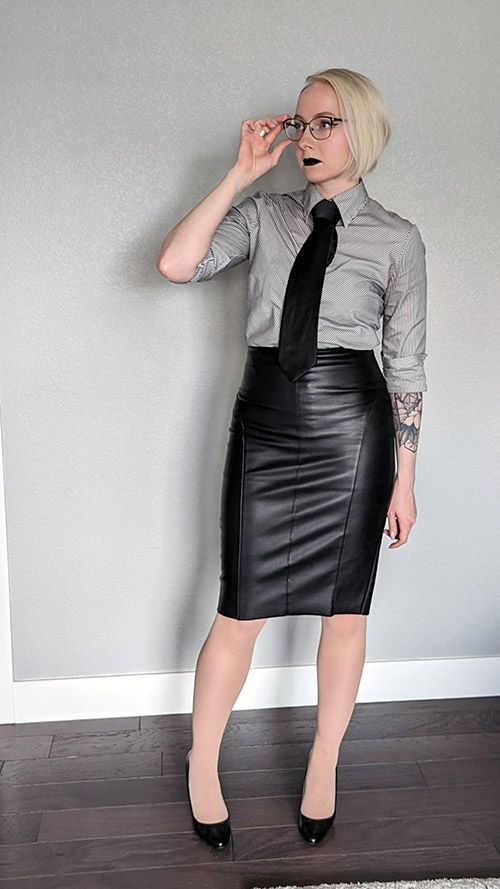 Make It Yours
Take a usual work outfit, and pick one element of it to give a bit more edge. Replace a black pencil skirt with a (p)leather one. Wear a black tie. Wear a spiky black statement necklace with the white button-up.
Color Match
In the interest of full disclosure, I bought both the blouse and the blazer at Express, so it makes sense that they'd be using the exact same color palette. Concentrating the color at the top draws the eye upward really nicely and looks harmonious.
Having the blouse sleeves peek out from the cropped blazer works to connect together all the elements of the outfit, by making it seem like the blazer has some black on it.
I always get compliments on the spider brooch, as well 🕷️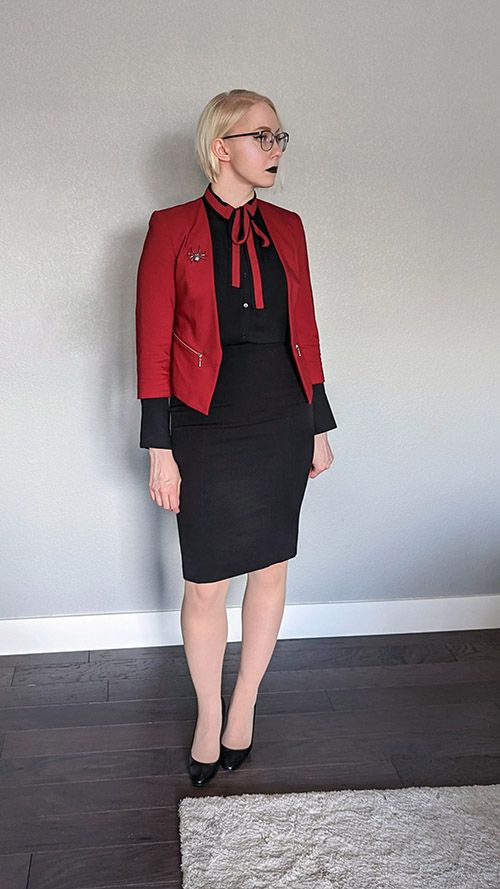 Make It Yours
If you have any clothes that are a combination of black and some other color, try to find the same or complementary colors to wear with them. Alternatively, try experimenting with adding a colored tie, or a scarf to add some cohesive elements.
Schoolgirl Chic (dare I say... Dark Academia?)
I've been wearing variations of this outfit since 2016, and it's probably one of my first corporate goth posts on Instagram. Since the skirt is pleated, my mind does go to a school uniform vibe, and over time, I've experimented with different accessories and layers.
My latest outfit features a cropped blazer, a big brooch, knee socks, T-strap Mary Janes, and a silk scarf.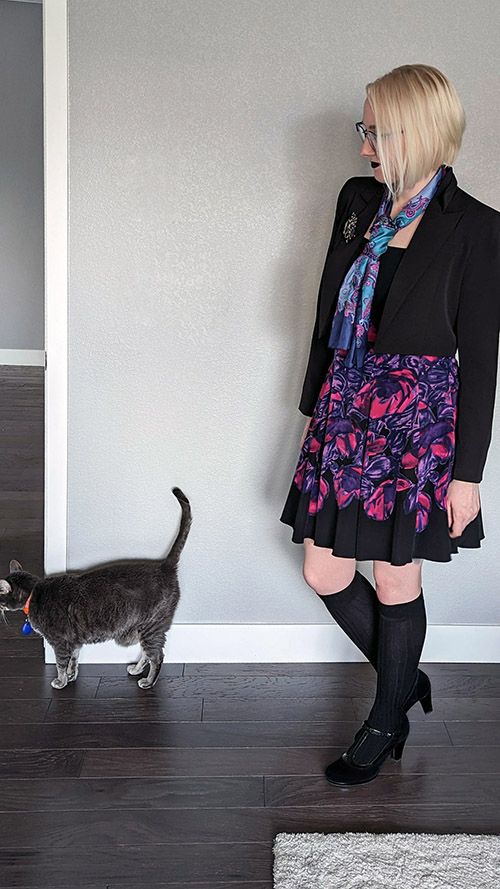 Make It Yours
It's not a coincidence that many of the elements of a school uniform are also the "timeless classics." This style spans many generations without changing significantly, so it's great to use for inspiration.
Take a look through your clothing for the pieces that come to mind when you think of a school uniform, and see if you can combine them to make your own take on a uniform. Some ideas to use as a starting point: button-up shirt, pleated skirt (of any length), blazer, anything plaid, knee socks, sweater vest, cardigan, loafers, ties, slacks, and tights.