One of the big reasons I got into sewing was to sew my own business casual clothes from good quality fabric, with exactly the features I want. I was very eager to jump right into that—sensible beginner advice, be damned! When I saw the geometric print silk on Mood, I instantly had a vision of a blouse made from it. So, my second EVER from-scratch sewing project was a Style Arc Tiffany blouse.  
It didn't turn out good.
I picked a size that was too small (especially in terms of sleeve length and tightness around my upper arm), the silk was a nightmare to sew, and being new to French seams, I had some major wonkiness going on at the shoulder seams. The blouse was unfortunately, unwearable. Nonetheless, I couldn't get the vision of it out of my head. I bought a few more yardage of that fabric, and bided my time until I could attempt it again with a bit more experience. That time is now :)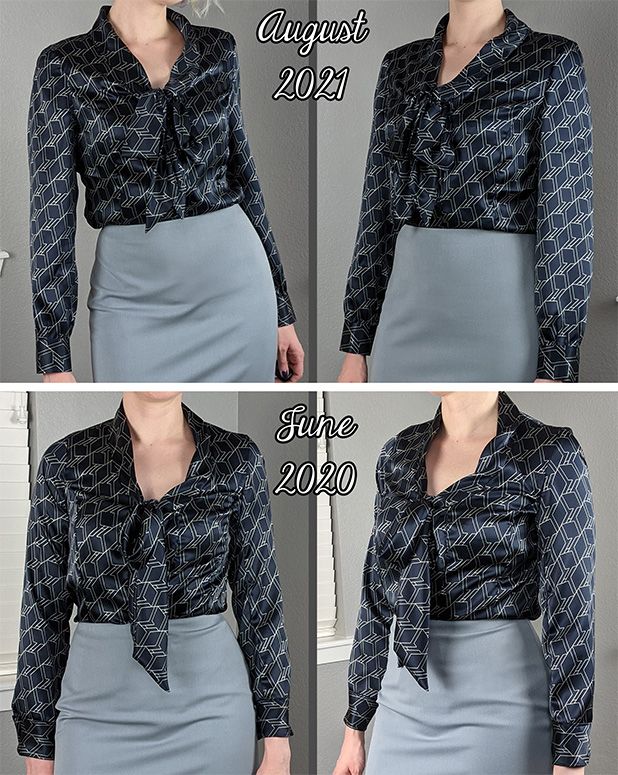 Materials & Supplies
Pattern Choice
When I originally chose this pattern, I didn't know many pattern sources. I also didn't know that not every pattern would have instructions as detailed as Seamwork provides. Even with a year of sewing under my belt, I still found Style Arc's lack of step-by-step illustration difficult, and needed to find videos or other third-party tutorials for some of the steps.
I do like that this blouse has a deeper v-neck than most patterns. Sometimes when you have a pussy-bow blouse, it can look matronly or at the very least like there's too much material at the neck, and the deep v-neck mitigates that. I also love the femininity of the princess seams!
Pattern Review
I tried to stick with the instructions as close as possible to give a good review, but as I got closer to finishing, I got more and more annoyed with some of the methods and went back to what I prefer (like the sleeve & cuff tutorial video by Diane Deziel).
I particularly wasn't a fan of all the "stitch-in-the-ditch" that the instructions had. Even though it's less time-consuming that slipstitching by hand, I feel like it really depends on a high level of sewing skill (i.e. making sure everything is lined up correctly and sewn right prior), and looks bad if you're not there yet (like me!). Slipstitch is slightly more forgiving in that aspect/easy to adjust for prior mistakes.
I did French seams, which made the fabric slightly easier to work with, since I could put it wrong sides together (since the wrong side is less slippery). I forgot the plan for the princess seams, though, so those did get overlocked to prevent fraying (this fabric frays really bad).
I didn't make any purposeful alterations, however I wish I would've adjusted the shoulders a bit. I didn't have a very accurate prior garment to go off of, but it felt like the shoulders were more forward than my shoulders are (and I even have forward-rolling shoulders). It's entirely possible this is also due to a sewing error on my part.
The hem ended up fairly short because I had to even up the bodice sections. To avoid losing even more length, I took this opportunity to try a "ban roll hem" method that lets you easily do narrow rolled hems, and thought it worked pretty well (this is the video I used as instruction). It probably would be easier to do this on fabric with less body (like chiffon), but I still thought this was a great technique, that I look forward to using again.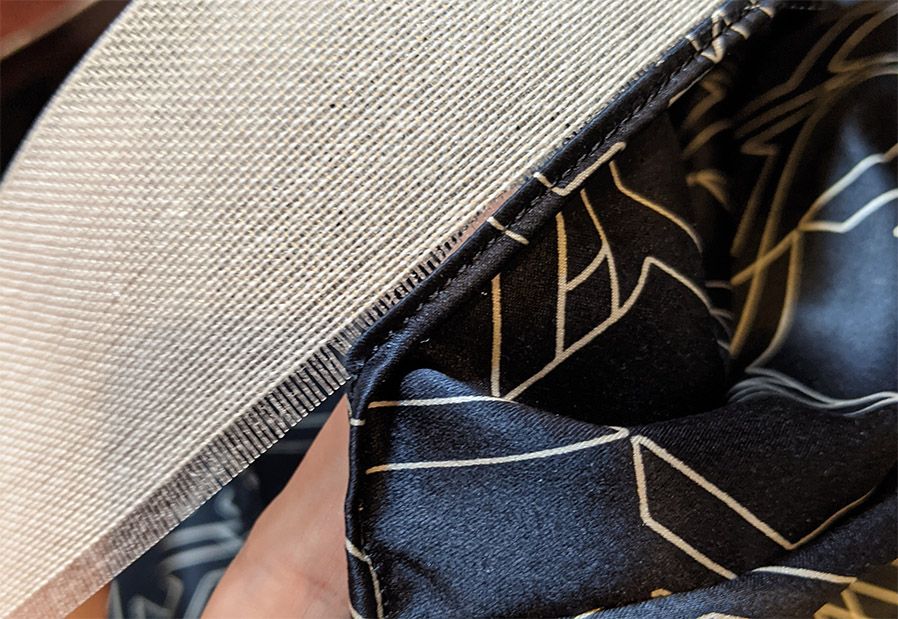 Then and Now
When I decided to sew this blouse again, I thought it would surely be easier since I have had plenty of opportunities to work with slippery material since my last attempt.
To my frustration, it was still insanely difficult, and although I had some tricks to help me deal, I gained a whole level of appreciation for past me and that I didn't do that bad of a job on my second garment ever (heck, I think the collar might even be better on my previous attempt).
I think overall it's better, and I followed good practices like pressing the seams often (which made a big difference) but there's some issues with the fit still.
Verdict
Would I sew this pattern a third time? I might. However I still think I'll stick with V9029 as my go-to pattern for princess seam button-ups.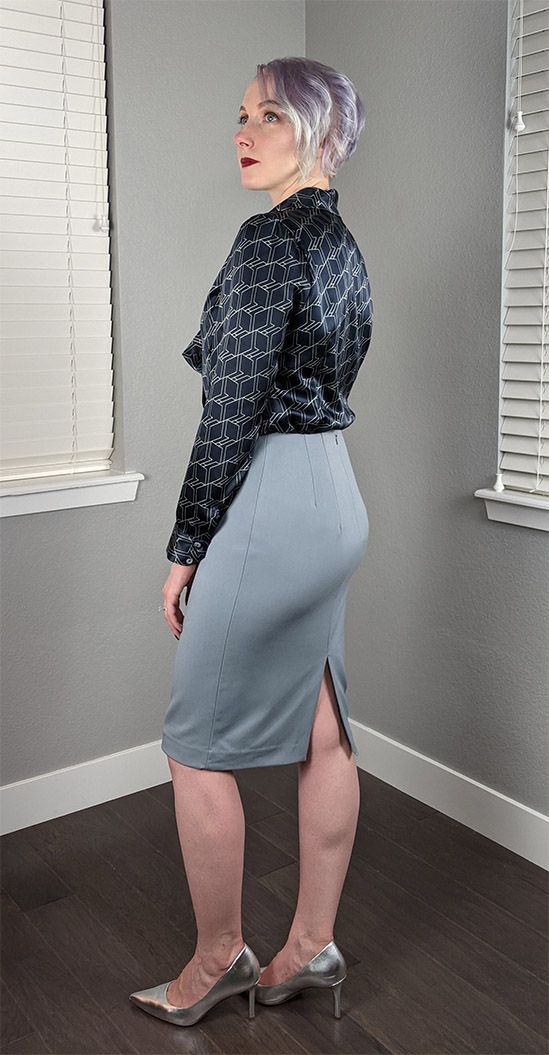 Tips/Lessons Learned
Using a Microtex needle (I used a 60/8) for the silk charmeuse was very helpful to avoid pulling on the fabric/unnecessary holes. The couple of times I had to seam-rip, I think it was easier due to sewing with this type of needle.
Using a rotary cutter on the slippery silk was way better than cutting it with scissors or using the tissue paper sandwiching method (and probably more accurate!)
Pins, pins, PINS for slippery fabric.
I was a bit scared of ironing or steaming silk, but this fabric handled it great (I tested it on a scrap piece first). I suppose it makes sense since it's a natural fiber.